Arancini, one of the most amazing foods, is said to have originated in Sicily during the 10th Century when Italy was under Arab rule, although others claim it originated from the Naples area.  Either way…….it's Italian for sure!!!
My Sicilian Grandmother was known for her "Rice Balls,"  and lucky for us she taught us all how to make them!   Even a few of her Great Grandchildren were blessed to have learned directly from her as she lived to be almost 100!  We always had such fun cooking with Angie, and creating great family memories.  To this day, my children and their cousins still make Rice Balls with their Grandparents.
The key to making Arancini successfully is all in the rice.  You have to use sticky rice!  I use Wegmans organic Jasmine Rice which comes out nice and sticky.  My niece uses Rissoto with the same result.
There are many variations of fillings for Arancini.  This time I mixed Mozzarella and Parmigiano cheese right in with the rice which helped the rice ball stick together, plus added some amazing cheesy deliciousness!  I typically place a small amount of Bolognese sauce (chop meat sauce) in the center of the rice ball.  The next variety I'd like to try is Arancini with Mozzarella, Parmigiano, Diced Pancetta, and peas.  I often see peas in Italian Arancini but have yet to make them with peas!
To assemble the rice balls, you simply start with a small amount of rice in the palm of your hand, cupping it upward on the edges to create a little "pocket."  Add a small amount of Bolognese sauce, and top it with another scoop of rice using both of your hands to shape it into a ball.  If you see sauce oozing out add a little more rice to that area and mold it into the ball.  The process of creating the ball with your hands is similar to making meatballs, gently shaping the ball by pressing your hands inward so the rice sticks together.
Once the balls are formed, egg and bread them (I use Gluten Free Italian Seasoned Breadcrumbs).  Now you're ready to fry!  Many people use a deep fryer, but I use a saute pan because I don't own a deep fryer.  I find the outside of the ball is less crunchy this way, but in some ways easier to eat.
You can make these ahead of time up to this point if entertaining, then reheat later in a roasting pan covered with tinfoil.  I like to serve Arancini as the first course of our Christmas Eve Dinner.  I simply plate it on a bed of tomato sauce, then wait for the hmmmms and yums!  Arancini are a real crowd pleaser!    Now Mangia!
*You can find my recipe for Bolognese Sauce below the Arancini recipe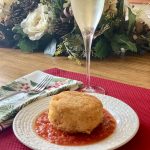 Print Recipe
Arancini! Italian Rice Balls
Fried Rice Balls with Mozzarella, Parmigiano, and Bolognese Sauce! If making for a cocktail party, triple or quadruple the recipe
Ingredients
8

Servings

Prepared Sticky Rice of choice

I always add Chicken Boullion, Salt and olive oil to my rice for added flavor

1

Cup

Bolognese Sauce

1

Cup

Shredded Mozzarella

1/2

Cup

Grated Parmigiano

4

Eggs lightly whisked

1-2

Cups

Breadcrumbs

I used Gluten Free Italian seasoned breadcrumbs for more flavor

Oil as Needed for frying

Depending on if you deep-frye them or fry them in a saute pan. I use olive oil

Additional Bolognese for plating
Instructions
Prepare rice according to package instructions, let cool

Mix in Mozzarella and Parmigiano Cheese

Scoop some rice into the palm of your hand, cupping the edges upward to create a little pocket

Spoon a small amount of Bolognese Sauce into the center of the rice pocket

Add another spoonful of rice on top of the sauce and gently form the rice into a ball as if you're making a meatball. Continue this process until you've used up all the rice.

Dip the rice balls in the whisked eggs

Dredge the rice balls in breadcrumbs. Continue until all the balls are coated in breadcrumbs before frying

Heat a large skillet on medium heat, add oil of choice

Brown the rice balls thoroughly on all sides. The rice balls can be made up to this point and then refrigerated until ready to reheat. Reheat in a roasting pan covered with aluminum foil. Or you can move right to plating them if not preparing them ahead.

Spoon Bolognese sauce on the center of the plate, and top with the Arancini!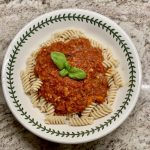 Print Recipe
Bolognese Sauce!
Hearty Tomato Sauce with Ground Beef, Veal, Pork, and Italian Sausage
Ingredients
1

lb

Ground Beef, Pork, and Veal

1

ib

Ground/Bulk Sweet Italian Sausage

Use Hot if you want to give it a kick

7

Oz

Mirepoix (Diced onion, celery and carrots)

4

Cloves

Garlic Diced

4

48 oz

Cans of Crushed Tomatoes

I use Tuttorosso

2

48 oz

Cans Tomato Sauce for a softer finish

I use Tuttorosso

2

Tbs

Chopped Basil

Salt and Pepper to taste

2

Tbs

Olive Oil
Instructions
Heat a large stockpot on medium and add olive oil

Saute Mirepoix 3-5 minutes until tender

Add diced Garlic and saute another 1-2 minutes, adding salt and pepper as you go

At this point, you can either add the meat with the veggies, or remove the veggies, brown the meat then add the veggies back

Once the meat is browned and combined with the veggies, add the cans of crushed tomatoes and tomato sauce.

Reduce the heat to a low simmer for several hours to cook down the acid in the crushed tomatoes.

Taste your sauce to see if it needs more salt and pepper. About 15 minutes before serving add the chopped basil.