What a name!?  This beloved family Sicilian Recipe has been passed down through the generations with no one exactly sure of the true name.  My Father taught me how to make what his family called "Sale' Moniguo".  I absolutely cannot find a translation for the word "Moniguo."  If you create the name from the main flavors and ingredients perhaps a more precise name would be "Aglio Basilico Salata Salsa" translated as "Garlic Basil Salty Sauce" because in essence that is exactly what it is!  I would not dare change the name though, as I feel so blessed to have this family recipe passed down from my Sicilian heritage and you just can't mess with that!
I have a funny story about this interesting and mysterious name.  Years ago our Church decided to create a cookbook using recipes submitted from the Congregation.  This required me to "quantify" my recipe.  That was a huge challenge for me back then because I typically shoot from the hip when cooking.  I throw in a little of this, and a little of that until it tastes good.  So now I had to come up with measurements and somehow I managed.  Somewhere in the data entry process of creating the cookbook, the name was altered and I had no idea until I stood there in Church on the Sunday the books were being distributed and opened the page to my recipe called "SALT OF MONIQUE." WAIT…………WHAT!!!???  I could not believe my eyes!  But it got worse when I read the directions. For example in step 5:
5. Bring "Salt of Monique" to a boil.
There's more but…….Point made!   I wanted to hide under a rock!  Remember, this was a Church cookbook! At quick glance one can see that "Moniguo" does resemble "Monique," but that didn't make me feel any better. Anyway, I'll turn my focus back to the actual recipe.
Let's face it,  there is no way you can go wrong with Olive oil, garlic, basil and salt! One bite of this decadent sauce drizzled over your steak and you'll be sold!  Similar to a Chimichurri which originated in Argentina and Uruguay, this Sicilian version uses ingredients more commonly found in Italian cooking.   It's important to use fresh ingredients!  Please promise me you won't use garlic from a jar or dried basil from your spice rack?!  It won't do it justice.
The very last step of preparing this sauce is key to bringing out the flavors.  While the grilled steak is resting, boil the sauce for 5 minutes.  Bring it to a boil and then reduce to a tamer simmering boil. This process truly enhances the flavors and it somewhat feels as if the salt becomes one with the garlic. Sounds pretty good, doesn't it?!
I have served this dish many many times to company over the years and it always receives a thumbs up!  I cannot take the credit of course. I am sure it came from one of my Great Aunts or a Great Great Grandmother back in Sicily.  Mangia!!!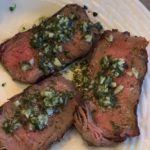 Print Recipe
Steak with Sale' Moniguo
Crowd-pleasing garlic basil sauce over grilled steak!
Ingredients
2-3

1 1/2-2 inches thick

Strip steak

8

Cloves

Garlic

Finely Diced

1/4-1/3

Cup

Fresh Basil

Finely diced

3/4

tsp

Kosher Salt

3/4

Cup

Olive oil
Instructions
Season Steaks with Salt and Pepper, refrigerate for at least two hours.

Finely dice the garlic. This can be done with a sharp knife on a cutting board or if you prefer in a food processor.

Finely Chop the Basil. I do this with a very sharp knife but can also be done in a food processor a well.

Combine garlic, basil, salt with olive oil and let stand for several hours (at the very least 2 hours).

Set the steaks on a counter to come down to room temperature about 45 minutes prior to grilling

Heat the grill to 450°. It's important to have a really hot grill to sear the steaks and get a nice chard exterior.

Grill the meat 6-7 minutes then flip and grill another 6-7 minutes or until the steak reaches an internal temperature of:

120° for medium rare

130° for medium

more to come

Let steak rest for 5-10 minutes to lock in the juices.

* Key step: Over medium heat bring Sale' Moniguo to a boil. Simmer at a tamer boil for 5 minutes. This enhances and blends the flavors beautifully!

Slice steak thinly as seen in the picture. Top with Sale' Moniguo!