This old word Southern Italian specialty is packed with flavor and sure to be a hit!  Some say Braciole (in Italian it's Braciola) originated in Naples, while others say Sicily is the home of this delicious rolled meat.   You can also find versions of Braciole in Greece.  Basically, Braciole is thin meat cutlets stuffed, rolled, and slow-cooked in tomato sauce.  People vary in the ingredients they use to stuff the meat, with the Neapolitans being known for adding pine nuts and raisins to the breadcrumb and Parmigiano mixture.  I have seen others add Greek Olives and roasted peppers.  I do not add any of those ingredients, but my version includes the addition of sauteed onions and diced prosciutto for an added punch of flavor and the additional fat also moistens the stuffing.   My stuffing includes the sauteed onions and Proscuitto, Italian seasoned breadcrumbs, Parmigiano cheese, and fresh Italian Flat-leaf Parsley.
Making Braciole is rather labor-intensive so be sure to set aside enough time.  Braciole can be made from beef, veal, or pork cutlets pounded very thin.  Cutlets are often not tender so it's important to pound them as thin as you can.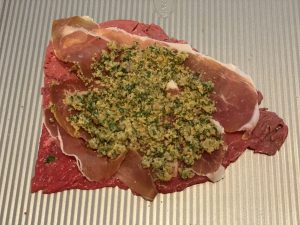 You can see in this picture that I used thinly sliced Proscuitto this time.  I have to say that I am going back to the typical way I make these by using diced Proscuitto.  The sliced Proschuitto can be hard to cut, and I find the flavor stands out stronger when I use the diced Proscuitto.  I estimated that I use about 2 Tbs (give or take) of stuffing for each cutlet.  Keep the stuffing away from the edges so that you don't lose any during preparation.   Now you're ready to roll the cutlets.
Simply roll-up the cutlet and secure it with twine or toothpicks.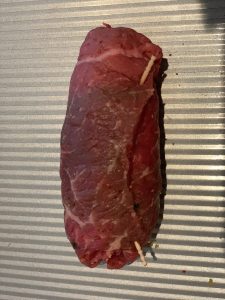 Next you Brown the meat in a braising pan.  For some reason, today I browned them in a non-stick skillet then transferred them to a roasting pan, but just using a braising pan means one less dish to clean! 😊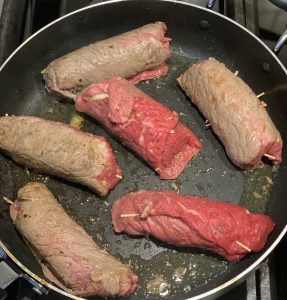 Once browned, add tomato sauce, then transfer to a 275′ oven to slow roast for 2 hours.  Slow roasting results in a nice and tender Braciole.
Enjoy!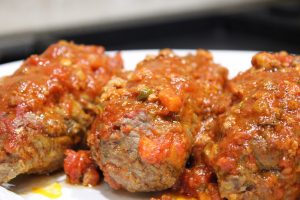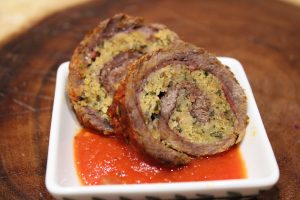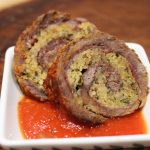 Print Recipe
Braciole
A classic Italian Dish made with Rolled Beef Cutlets stuffed with a variety of ingredients!
Ingredients
10

Pounded Beef cutlets

Round or flank

8

Oz

Diced Proschiutto

1

Large

Vidalia Onion Finely Diced and Sauted

4

Tbs

Olive oil (2 for onions and 2 for browning)

1

Cup

Flat Leaf Italian Parsley Finely Diced

1

Cup

Seasoned Breadcrumbs

I use Gluten Free

1

Cup

Shredded Parmigiano Cheese

Tomato Sauce
Instructions
Pound Beef cutlets nice and thin

Dice onion and Parsley, set parsley aside

Saute onions, adding salt & pepper, until softened and translucent

Add the diced Proscuitto and saute 1-2 minutes

Combine the sauteed onion and Proscuitto with the dry ingredients to make your stuffing. If the mixture seems dry add a drizzle or 2 of olive oil.

Lay the cutlet on a baking sheet and spread about 2 Tbs of the stuffing on the cutlet, then roll the cutlet to form a tubular shape. You can either use twine to tie the cutlets or secure with toothpicks to keep the stuffing inside the roll. Repeat this step until all cutlets are rolled.

Heat a large braising pan on medium-high heat, add the remaining olive oil.

Brown the rolled cutlets, making sure all sides of the roll brown-up.

Cover the cutlets in the tomato sauce of your choice, cover the pan, and slow roast the Braciole for 2 hours in a 275' oven.