The temperamental weather this Fall has me jumping from crockpot to grill then back again!  Welcome back Fall!  Cooler temps led me to pull out the crockpot yesterday to make a family favorite, Pork Tenderloin Stew!  What is it about cooler temperatures and our need for comfort food?  This topic has actually been researched at some universities, but for a quick read on the subject check out this article https://www.inverse.com/mind-body/61866-why-we-want-comfort-food-when-it-s-cold-outside
Why pork you might ask?  Why not pork I might say!  After a couple of decades making beef stew with tough pre-cut stew meat from the grocery store, I decided to opt for a more tender cut of meat, but I didn't want to empty my wallet on beef tenderloin only to put it in a stew.  Pork tenderloin, on the other hand, is rather inexpensive keeping in line with traditional stew meat.
This stew is a bit more labor-intensive because you have to chunk up the tenderloins, although I am sure any butcher would be happy to do that for an added charge.  A really important step in the process is dredging the chucked-up pork in flour seasoned with salt and pepper, then browning the dredged pork before adding it to the crockpot.  The flour will help thicken the broth as the stew cooks.  I like a really thick gravy when eating stew, so shortly before serving, I spoon out about 1 cup of broth and thicken it with cornstarch in a small pot on low to medium heat.  Return that to crockpot, blend, and voila you have a nice thick gravy!
Add in your typical stew culprits (onion, celery, carrots, beef broth, thyme, rosemary, and sage),  and simmer it away all day to fill your home with the warm aroma of your comfort food just waiting for you!  Notice that I did not add potatoes?  I like to prepare the stew in the morning then slow-cook it all day.  This doesn't work great for potatoes which tend to disintegrate when cooked that long.  Of course, you could add the potatoes later, but I prefer to make mashed potatoes and serve the stew on top.  It's the ultimate mashed potato pool?  Didn't you make a mashed potato pool when your mother served mashed potatoes and gravy for dinner?  I sure did!
I have another version of pork tenderloin stew that I will share with you another day.  Go ahead, put some logs on the fire and cozy up to your Pork Tenderloin Stew over mashed potatoes!  Enjoy!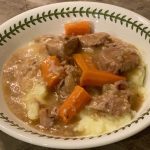 Print Recipe
Pork Tenderloin Stew
Delicious Pork Tenderloin Stew Served Over Creamy Mashed Potatoes! Comfort Food!
Ingredients
2

Pork Tenderloins

1

Cup

Flour (I use Gluten Free)

2-3

Tbs

Olive Oil

2

Qrts

Beef Broth

3

Cups

Carrots

1

Cup

Celery

1

Lrg

Vidalia Onion (or onion of choice)

Thyme, Rosemary, and Sage

Salt and Pepper to taste

2-3

Tbs

Corn Starch
Instructions
Cut tenderloins in half length-wise, then cut into 1-2 inch chunks

In a large bowl, season flour with salt and pepper

Dredge the pork in the flour mixture

Heat a large non-stick skillet on medium heat then add 2-3 tablespoons of olive oil. The flour can stick easily so a good amount of oil and a non-stick skillet help.

Brown the pork in the skillet until the flour turns a nice golden brown. Then transfer to the crockpot.

Add remaining ingredients. I like to tie the herbs with string and add them to the stew in one bouquet.

Set your crockpot on your desired cook time and let the stew slow-cook.

If you want a thicker gravy, transfer 1 cup of broth to a small pot. Add cornstarch and which over low-medium heat until thickened.

Serve over Mashed butter potatoes