Delicious! Decadent! Rich!  This dish oozes with amazing cheesy flavor!  I've made Chicken Cordon Bleu over the years, but the other morning when I was planning my grocery list, I got this intense craving for cheese which is unusual for me.  That moment was the inspiration behind my Cheesy Bechamel Sauce! When in doubt………. add more cheese!
You have to start with thinly pounded boneless-skinless chicken breasts in order to roll the chicken into a tube-like shape. Try to get large cutlets; the chicken cutlets in today's package were really small which created a challenge so my cordon bleu were on the small side (still delicious though!).  In the future, I will order directly from the butcher, specifying the size needed.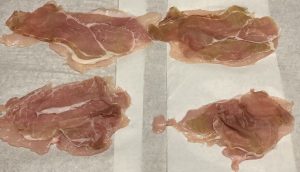 .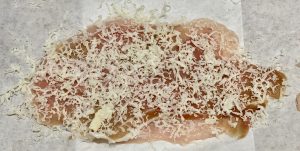 .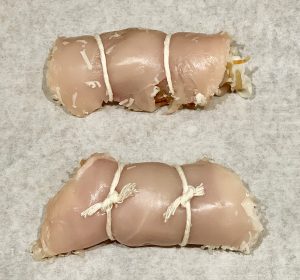 .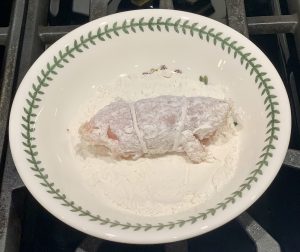 .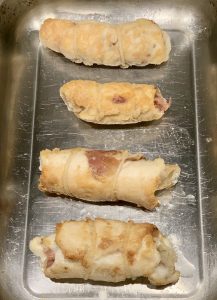 .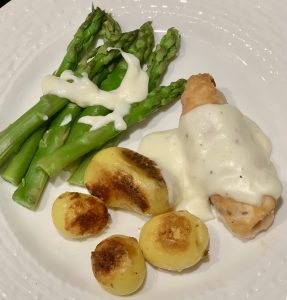 .
These are really fairly easy to make.  You simply layer the prosciutto and shredded gruyere on the pounded breast, roll, and tie. You then dredge the chicken roll in flour, brown, and cook until done.  Chicken Cordon Bleu is delicious on its own, but wow did the Cheesy Bechamel Sauce really make it pop!  I was very pleased with the outcome of the Bechamel!  I had quite a bit of sauce left so I made some mac-n-cheese with the remaining sauce……..so good!!!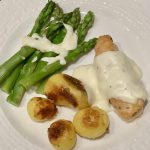 Print Recipe
Chicken Cordon Bleu in a Cheesy Bechamel Sauce!
Delicious Chicken with Prosciutto and Gruyere Cheese, in a creamy, cheesy, rich, Bechamel Sauce! You'll Never know it's Gluten Free!
Ingredients
1

lb

Boneless, skinless chicken breasts, thinly pounded

2

Cups

Shredded Gruyere Cheese

1/2

Cup

Flour

String For tying

2

Tbs

Olive Oil
Instructions
Pound the chicken breasts thin

Layer the chicken with a slice of prosciutto and about 1/2 cup of shredded cheese

Roll the chicken, prosciutto, and cheese into the shape of a tube

Tie with cooking string (or use two toothpicks)

Dredge the rolled chicken in flour

Heat a non-stick skillet on medium heat, add olive oil

Brown chicken until the outside turns a nice golden brown. Finish in the oven for 15-20 minutes. Be careful not to overcook which can result in dry chicken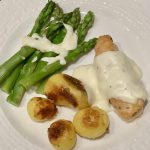 Print Recipe
Cheesy Bechamel Sauce!
A decadent creamy cheese sauce that adds delicious cheesy flavor to many dishes. Makes a great mac-n-cheese!
Ingredients
2

Tbs

Butter

2

Tbs

Flour

I use Gluten Free but any flour will work

2

Cups

Milk

1.5

Cups

Shredded Gruyere Cheese

Salt and Pepper to taste
Instructions
Melt butter in a medium-sized saucepan on medium heat

Add Flour and quickly whisk together with the butter

Slowly add the milk whisking quickly and constantly.

Cook on medium heat until you see the hint of a boil, continually whisking to avoid burning

Ads the cheese and stir with a spoon until completely melted, add salt and pepper if you desire