The greatest influence on my cooking has been my French Grandmother who lived with us and did most of the cooking for our family.   We never had a dinner without a salad, and that salad was always served AFTER the entree'. Many European cultures serve salad last as a "digestive" my Grandmother would always say in her cute French accent! Accompanying the salad was usually a nice crusty French bread, brie, and blue cheese!
For years my mother, both of my sisters, and myself have tried to make this dressing as authentically as we could.  It was never written down, so everyone was just going by memory and each had a different version.  Years ago I made a decent balsamic vinaigrette but nothing like my Grandmothers. Then one day it hit me.  I got this visual in my mind of my Grandmother grinding parsley in one of those hand-held mills, which led me to remember the red onion as well!  I was so excited by this memory that I started adding these two essential ingredients and wow did my vinaigrette light up!  The paring of the red onion and the vinegar are incredible, and the aroma of fresh Italian parsley is muis bien!!!
I learned through trial and error that the outcome is best when the onions are sliced as thinly as possible.  Easier said than done! I have to wear my reading glasses to be sure I am getting the thinnest slices.  A really sharp knife is key as well. Ideally, I make this recipe hours before serving so the onions live in that delicious vinaigrette and become almost pickled! Yum!
Be sure to soak it up with some good crusty bread! Bona Petite!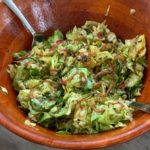 Print Recipe
Grandma's Balsamic Vinaigrette!
Delicious addition to your Salad with Fresh Parsely and Red Onion! This recipe would be for a large salad/group or it can last 3 days or so for smaller nightly salads so you don't have to make it each night
Ingredients
1

Cup

Olive Oil

1/3

Cup

Balsamic Vinegar

Sometimes I add a little more

1/3

of 1

Large Red Onion

Sliced very thin

1/4

Cup

Flat Leaf Parsley (Italian)

Finely diced

3/4

tsp

Kosher Salt

1/2

tsp

Black Pepper

1/4

tsp

Galic Powder
Instructions
In a large measuring cup combine olive oil, balsamic venegar, salt, pepper, and garlic powder. Whisk to blend

Use a very sharp knife to slice very thin slices of red onion. I find the thinner the slice the more pickled the onions become

Add red onion and parsley to the vinaigrette, stir and let sit for at least two hours if not more.

Toss with your salad at meal time. STIR VINAIGRETTE VERY WELL BEFORE TOSSING. The onion and parsley make it a bit more challenging to make sure you're getting the right proportions of oil and vingar on the salad.