The Holiday Season is upon us (kind of snuck up on me 😊) opening the door to a multitude of Holiday traditions, events, and special family time!  I absolutely love Christmas, and it starts in my kitchen!
Believe it or not, I was 19 years old before I ever made Christmas cut-out cookies decorated with icing.  My family had many fun traditions, but cut-outs just weren't one of them.  I made Christmas cut-outs for the first time visiting my now Husband's childhood home.  It was so fun and I was immediately hooked.  Plus you get the bonus of a yummy cookie!
Once we had children, I started baking with my two little helpers and to this day they both come over each December to bake cookies with their mama! 💕  So fun!  They love reminding me how one year I turned the big mixer on without securing the bowl on its stand, covering both myself and the kitchen in flour………….just one of my many kitchen debacles!
I'm not a big baker, but I've learned a few tricks over the years.  I love almond flavor and I add it to any dessert that I feel would be tastier with a drop of almond extract.  So there are two tricks that I use that will turn an ordinary iced sugar cookie into an amazing one!  1) A drop of Almond Extract in BOTH the cookie dough and the icing, and 2) undercook the cookies for soft chewy yum!
You can get as creative as you like when decorating the cookies.  Mine would range from elegant designs that I would give out as gifts to neighbors to fun child-like designs.  Have fun baking these delicious cookies and pass the tradition on to the next generation!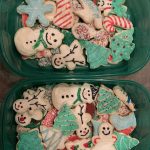 Print Recipe
Best Ever Gluten Free Christmas Cut-out Cookies!
Sugar cookies, rolled out and cut with cookie cutters then topped with icing and decorations
Ingredients
3/4

Cup

shortening (butter or buttered flavored Crisco)

1

Cup

Sugar

2

Eggs

1

tsp

Vanilla

1/2

tsp

Almond Extract

2 1/2

Cups

Flour (I use Gluten free but can be made with regular flour)

1

tsp

Baking Powder

1

tsp

Salt
Instructions
Cream together the shortening and the sugar

Blend in the eggs, vanilla extract and almond extract

Fold in the dry ingredients one cup at a time until well blended

Sprinkle a sheet of parchment paper with flour.

Roll out the dough to desired thickness (don't go too thin because they will burn easily)

Using your cookie cutters cut the cookies.

Once you've used up the rolled dough pull any unused dough away from the shapes. With a floured spatula transfer cutouts to a parchment-lined cookie tray

Bake on 375 for 5-6 minutes

Cool the cookies on a cooling rack

Prepare your icing according to the instructions on the bag of confectionary sugar. DON'T FORGET TO ADD THE DROP OF ALMOND EXTRACT!!!

Ice and decorate your cookies and ALWAYS, ALWAYS HAVE FUN!😊