If you like blueberries you'll love this delicious Blueberry Pie!  I've been making Fresh Blueberry Pie for 28 years, and it has become our family favorite!  This is not your traditional baked blueberry pie made with rolled pie crust; rather it is fresh (no baking required), and prepared with a graham cracker crust.  This pie is perfect for a warm summer evening as it is served cold with whipped cream. Due to the hot summer we are having in Upstate New York, I opted for Cool Whip this last time because it is lighter and more refreshing than homemade whipped cream.
28 Years ago when we lived in Missouri, our neighbors took us blueberry picking.  A first for both of us!  The property of the farm was beautiful, and we had never seen such enormous blueberries in our lives!  And sweet!!  So very sweet!!  It was on that day that we were introduced to blueberry pie!
The trickiest part of making this pie (besides eating all the berries before they make it in the pie shell!) is getting the pie to "set" in the refrigerator.  A well-set pie relies on a mixture of blueberries, water, sugar, and cornstarch cooked long enough on the stovetop to get thick. If you take it off the burner to soon, the result may be a pile of syrupy blueberries mixed in with some graham cracker crumbs.  I have had that happen a couple of times, but honestly the taste is just as delicious even if the presentation is a little sloppy!  Most graham cracker crust recipes call for 5-8 minutes of baking before filling.  I used to follow that direction until one day my daughter made the pie, and left out that step.  I  was a little worried to slice into the pie after dinner, but it sliced beautifully and we preferred the texture over the baked crust.  Trial and error seems to be a given in my kitchen.  Some of my best recipes are the result of many failed or sub-par attempts!
I have substituted peaches and strawberries which are delicious as well!  Fresh Peach Pie in August when peaches are their ripest is out of this world!!  Just love it!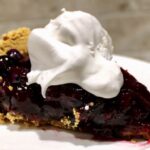 Print Recipe
Fresh Blueberry Pie
Easy and Delicious No-Bake Dessert
Ingredients
9

inch

Graham Cracker Crust Prepared according to package directions or use a pre-made graham cracker crust

3/4

Cup

Water

2.5

Tbs

Corn Starch

Pinch

Salt

4

Cup

Fresh Blueberries

Rinsed, drained, and dried

1

Cup

Sugar
Instructions
Combine the water, cornstarch, sugar, and salt in a 1.5 qrt Pot

Add 1 Cup of the blueberries and bring to a low boil until thickened, stirring often to avoid the mixture from sticking or burning. Break up some of the berries with a fork or muddler as you go. The result will be like a chunky blueberry syrup.

Remove from heat and cool

Add blueberry mixture to remaining blueberries and stir well.

Refrigerate at least 7 hours or overnight to set (just like you "set" a jello)

Serve cold topped with fresh whipped cream or Cool Whip works well on a warm summer night.