I recently took a trip to the grocery store to purchase Yellow Fin Tuna steaks for dinner.  I've never had tuna steaks, but my husband loves them!  To my disappointment, they were out of Tuna, and I wasn't thrilled with the alternative fish options so I bought thinly sliced chicken cutlets instead.  I was all set to prepare them like I typically do, either as a Chicken Picatta dish or breaded and fried cutlets, but it occurred to me that the Ginger Lime sauce I was going to prepare for the Tuna steaks could also be great with chicken!  Hence the birth of my Ginger Lime Chicken!
I typically shy away from ginger mainly because I don't really know how to use it, but this recipe made me a convert ginger fan!  The amazing aroma floating up to my nose while grating the fresh ginger made me eager to taste this recipe!   I mixed the freshly grated ginger with olive oil, soy sauce, lime juice, garlic, sugar, fresh cilantro, salt, and pepper for what turned out to be a delicious blend of tastes!  Dredging the cutlets in flour gave the sauce a nice coating to stick to, and the outcome was tasty beyond my expectations.  So much so, that I didn't save any leftovers for my husband!🙈. Sorry babe.
I hope you enjoy my new spin on chicken!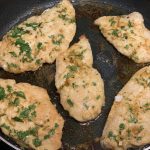 Print Recipe
Ginger Lime Chicken
Pan Seared Chicken in Delicious Ginger Lime Sauce!
Ingredients
1

lb

Thinly sliced boneless skinless chicken cutlets

Flour for Dredging

I use Pillsbury Gluten Free Flour

1/2

Cup

Olive oil (plus 2 Tbs for pan-searing)

1.5

Limes juiced

1

Tbs

Freshly grated Ginger

2

Tbs

Soy Sauce

I use Gluten Free

3

tsp

Sugar

2-3

Cloves

Garlic (depending on size)

1.5

Tbs

Diced Cilantro
Instructions
Mix together the olive oil, lime juice, and soy sauce.

Add the remaining dry ingredients, mix well

Let marinade rest at least 2 hours

Dredge the chicken in flour

Heat 2 Tbs olive oil in skillet on medium heat

Pan sear chicken cutlets for about 4 minutes per side until the coating turns a nice golden brown and the internal temperature of the chicken reaches 165'.

Add about half of the marinade and simmer 1-2 minutes to coat the cutlets.

Use the reaming marinade for extra sauce. I served this over rice.