An Italian Classic, Greens and Beans delivers a delicious, inexpensive, and nutritious meal!  Oddly, this meal was never cooked in my childhood home, so I wasn't introduced to this great dish until well into adulthood.   Greens and Beans pack a hearty bowl-full of plant-based nutrients derived from the escarole and creamy cannellini beans.  I kind of wrecked the plant-based part this time because I added Italian Sausage.  I left some without sausage for my daughter who follows a plant-based diet.
This is a really easy meal to make.  Simply Saute diced garlic in olive oil, add the escarole, stir, season, then add chicken or vegetable broth and beans.  Then cover and simmer for a while.  I always add grated Parmigiano Cheese and serve with crispy warm bread seasoned with olive oil, salt, and pepper.  Mangia!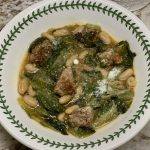 Print Recipe
Greens and Beans
Classic Italian Greens and Beans with or without Sausage!
Ingredients
2

Cloves

Garlic

Diced

2

Tbs

Olive Oil

1

32oz

Bag of Esarole

1

14oz

Can of Cannallini Beans

2

Cups

Chicken or Vegetable Broth

Salt and pepper to taste

Parmigiano Cheese to taste
Instructions
Heat large skillet on medium heat

Saute diced garlic until the edges turn the slightest bit golden, about 1-2 minutes

Blend in the escarole, add salt and pepper to taste

Add the beans and broth. Cover and let simmer 5-10 minutes

Serve with grated Parmigiano Cheese and toast coated in olive oil, salt, and pepper