I can remember walking in the house to the amazing aroma of garlic and onion sizzling on the stove when my mother made her delicious Garlic-Onion Chicken!  My mother usually only made this dish for company, but it's simple enough to make on a regular weeknight as well.  Cubing the chicken can take a bit of time, so you could ask the butcher to cube the chicken if pressed for time.
My mother's French background is the reason she uses more butter than oil in her cooking, a trademark of French cuisine!  The key to this dish is thickening the sauce by sauteing the onion and garlic in the same pan as the chicken, scraping up any cooked-on bits of flour in the pan.  Combined with the butter and olive oil the flour helps brown-up the onion and garlic nicely while the fat makes them glisten! Once softened you can add the dry white wine and if it needs more liquid a little bit of chicken bouillon can help, but don't go overboard with the bouillon or you will lose the intended flavor of this dish by drowning out the onion and garlic.  This dish really needs that garlic and onion flavor to live up to it's name!
If entertaining I often just brown the chicken, saute the onion and garlic, make the sauce, and then refrigerate until it's time to roast it in the oven before serving.  I actually made this 21 years ago for our youngest Daughter's Christening for about 40 people.  I always serve over Jasmine Rice, but any rice of your choice would work as well!!
Quick tips to make meal-prep quicker:
Ask your butcher to cube the chicken.
Buy pre-diced onion.  But NOT the Garlic.  Garlic ALWAYS should be freshly diced!!!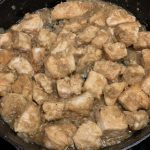 Print Recipe
Irene's Garlic-Onion Chicken!
Delicious and beautiful Garlicky, Oniony, Chicken in a buttery wine sauce!
Ingredients
2

lbs

Boneless, skinless, Chicken Breast

1

Large

Vidalia or other Mild White Onion

Freshly diced or Pre-diced From Grocery Store works

4-6

Cloves

Garlic

Freshly Diced!

1/2

Cup

Flour

I use Pillsbury Gluten Free Flour

1/3

Cup

Dry White Wine

I use Pinot Grigio

2-4

Tbs

Butter

2-3

Tbs

Olive oil

1/4

Cup

Chicken Bouillon if needed

Salt and Pepper
Instructions
Cube boneless skinless chicken breasts into about 1-1.5 inch cubes

Dredge the chicken in flour

Heat a large skillet on medium heat. Add 2 tablespoons of the butter and oil.

Once the butter has melted, add the chicken and brown until the coated chicken is a nice golden color. Transfer chicken to another plate.

In the same pan, saute the onion and garlic until they soften and become a dark golden color, scraping up all the cooked-on bits of flour to create a thickened glaze. You might have to add another tablespoon of butter and oil at this point.

Add the white wine and let simmer for 5 minutes

Combine the chicken with the garlic and onion in the same pan

Transfer pan to the oven and roast for 20 minutes