I  love playing around with marinades and creating new twists, pairing contrasting yet complementary flavors. This Cilantro Lime marinade is bursting with flavor and smells so good! I love the smell of lime!   
There are countless ways to prepare shrimp, but I find grilling the best method!  I just love the smoky qualities the grill adds and the firmness in the texture of the shrimp when grilled.  Shrimp is such a great low-calorie punch of protein that pairs well with so many other foods. I like to marinate any shrimp that is going on the grill for 30-45 minutes prior. Any longer and you may have mushy shrimp and no one wants that!
I wrote this recipe in April on a sunny and unusually warm day for Rochester, NY.  Any Rochestarian can tell you that we see so many cloudy skies during the winter, that one burst of sun and everyone is smiling!  It was that burst of sun that inspired me to write this recipe with glimmers of hope that summer isn't too far off!  
I would typically pair a dish like this with a nice crisp Pinot Grigio, but I have to say that today's hint of summer made me feel like a Margarita!  Yep, definitely a Margarita night!  Enjoy!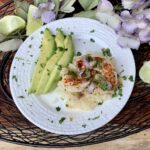 Print Recipe
Cilantro Lime Grilled Shrimp
Great tangy marinade for Grilled Shrimp, Fish, or Chicken!
Ingredients
½

Cup

Olive oil

1/3

Cup

Dry white wine

1

Lime Zested

1

Lime Juiced

1

Tbs

Died Cilantro

1/2

tsp

Kosher Salt

1/4

tsp

Black pepper

1/8

tsp

Cayenne Pepper

1

Large

Shallot Diced

1

lb

Jumbo Shrimp, peeled and deveined
Instructions
Mix together olive oil, white wine, lime zest, lime juice, salt, pepper, and cayenne pepper with whisk.

Add diced shallot and cilantro

Let sit for at least two hours

If needed, peel and deveine Shrimp

Dry shrimp on paper towel

Marinade shrimp 30 minutes in refrigerator

Grill 5-7 minutes turning half way through

Serve over rice, cauliflower rice, or with a salad