I had the hardest time coming up with a name for this latest creation!  I was all over the map with descriptors, when finally it came to me – it's basically just Salmon in sauce, so I called it Saucy Salmon!  I know…….not too creative but it will do!
I've mentioned before that I struggle with Salmon!  I want to eat it because of the healthy punch of Omega 3 it delivers, but I have to camouflage it due to the strong flavor compared to many other fish varieties.  I typically camouflage Salmon with a sweet sauce (see Apricot Glazed Salmon for another Salmon recipe!  https://mysavorykitchen.com/?s=salmon), but this time I went the savory route.  Saucy Salmon blends delicious sauteed garlic, chicken broth, and tomato paste with non-dairy milk to create a rich and creamy garlicky sauce.
I hope you enjoy it as much as we did!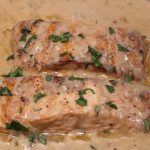 Print Recipe
Saucy Salmon
Pan-seared Salmon in a rich and creamy garlic sauce
Ingredients
4

Salmon Fillets

4

Cloves

Grarlic Diced

3

Tbs

Butter

2

Tbs

Flour (I used Gluten-Free)

2

Cups

Milk of Choice

1/2

Cup

Chicken Broth

2

Tbs

Tomato Paste

Salt and Pepper to taste

Parsley for garnish
Instructions
Heat medium sized skillet on medium-high heat.

Melt 1 tablespoon of butter

Season Salmon filets with salt and pepper

Add Salmon filets and sear until golden brown about 5 minutes per side

Set Salmon aside on a separate plate

Add garlic and saute until golden, and some salt and pepper at this point.

Now it's time to make your Rou. Add 2 tablespoons of butter to the sauted garlic. Once melted add 2 tablespoons of flour and quickly whisk until it forms a paste.

Stir in the milk and chicken broth, continuing to whisk until creamy (all lumps smoothed out).

Blend in the tomato paste, adding more salt and pepper if desired.

Add the Salmon back to the pan, spooning the creamy sauce over the top.

Garnish with Italian Parlsely and serve!