This is one of my favorite recipes that looks much harder then it really is!  This has become a regular weeknight meal at our house, but it's dressed-up enough to create an elegant meal when entertaining.
I like a good short-cut when cooking, so I am truly grateful to Wegman's for their completely trimmed very thin boneless skinless chicken breast cutlets.  No pounding necessary! If your local grocer doesn't offer this option, you most likely can order it through the store's butcher department, or go small and support your local butcher shop.
This is one of the many dishes I have made over the years without any measurements, just by experience, gut feeling, and eyeballing it.  I realize that my "gut" or "eyeball" doesn't help you out very much when you've never made this dish so I got out the measuring cups and spoons and created this recipe.  Just for you!
My house is always stocked with the main ingredients in this dish including the chicken which I buy weekly, but I also keep some in the freezer for when the mood strikes me.  Those staple items include the obvious such as salt, pepper, and olive oil, but I also stock lemons, canned artichoke hearts quartered, chicken broth, a dry white wine, flat-leaf parsley, and capers.   This is a great combination of flavors, but if they're not your favorite you can mix it up.  One time I added sliced green olives which myself and my husband loved, but it got a big thumbs down by our kids.  And they are adults, so hating on olives is not just for kids!  Other options include using onions, garlic, and spinach.  If you add spinach just throw it in at the end because the heat from the other ingredients will just wilt the spinach without overcooking it.
This dish is great with Jasmin rice as well as a nice green vegetable such as broccoli, broccolini, or asparagus.  I prefer Jasmin Rice because it's a bit sticky plus I add Chicken Bouillon, Condensed Chicken flavor, and olive oil to give the rice great flavor.  A dry white wine is an excellent accompaniment.  Enjoy!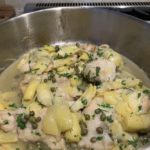 Print Recipe
Chicken Piccata
Amazing Italian Chicken Entree Easy Enough for a Week-night Yet Beautifully Delicious for Entertining.
Ingredients
4

Thin boneless skinless chicken breast cutlets

3

tbs

Olive oil

1/2 -1

Cup

Flour seasoned with salt and pepper to taste

I use Pillsbury Gluten Free

14

oz

Can of quartered artichoke hearts

1

Lemon zested and juiced

To taste

1/3

Cup

Dry white wine

I use Pinot Grigio

1/2

Cup

Chicken broth

1-2

tbs

Small capers

1-2

tbs

Flat-leaf parsley

Finely chopped
Instructions
Dredge chicken cutlets in flour. You can mix salt and pepper into the flour if you prefer

Heat a skillet on medium high heat. Add Olive oil.

Brown the cutlets about 3-4 minutes per side. Remove from pan and let rest on a plate.

In the same pan saute' artichoke hearts 1-2 minutes in the remaining oil, scraping up any brown bits created by the chicken and flour.

Add the white wine and let cook on medium heat for 1-2 minutes.

Add the fresh squeezed lemon juice and chicken broth. Salt and pepper to taste. Simmer for 5 minutes

Add the cutlets back to the pan, trying to maneuver most of the artichokes on top of the cutlets. Simmer on low for 5-10m minutes.

Add capers and top with flat-leaf parsley