Most people are familiar with traditional American pulled-pork, otherwise known as Bar-b-que, but Cuban pulled-pork is less widely known in the states.   Typically, you see Cuban pork in the delicious Cuban Sandwich, but it is also quite good in a Taco, or simply eaten with rice and beans.
I was first introduced to Cuban Pork at a local restaurant.  They served the pork in soft flour tortillas, with pico de gallo, pickled onions, black beans, and rice.  Delicious!  Just like Bar-b-que, Cuban pork is usually made with a fatty cut of meat such as pork shoulder or pork butt.  I make mine with Pork tenderloin because a few members of my family do not digest fats too well, plus it's better for your heart!.  With that said, the end outcome is tastier when using the fattier cut of meat!
Where Bar-b-que is smothered in sauce, Cuban pork gets a spice rub, and cooks in its own juices with added fresh-squeezed orange and lime juice.  It's ok to use bottled juice if you do not have fresh oranges and limes, but the flavor's better when it's fresh.   The rub consists of salt, black pepper, cumin, and oregano.  Fresh onion and garlic also add to the flavor nicely, and all of these flavors blend so well with the sweetness of pork!
This dish pairs nicely with rice and beans, and I love topping it with pickled red onions!   The first time I saw that combo on a menu I thought it seemed like an odd pairing, but I couldn't have been more wrong about the amazing taste of these contrasting flavors!  Avocado, roasted peppers, and cilantro are all good additions to this dish.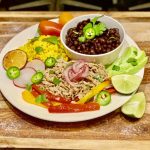 Print Recipe
Cuban Pork with Pickled Onions
Delicious slow-cooked Pork Cuban style, with a spice and herb rub, citrus, and topped with pickled onions
Ingredients
2

Pork Tenderloins (Can use a fattier cut like shoulder or butt)

Olive Oil to coat tenderloins

1/4

Cup

Vidalia Onion rough chopped

4

Cloves

Garlic diced

1/2

Cup

Fresh squeezed Orange Juice (ok to use bottled)

1/2

Cup

Fresh squeezed Lime juice (ok to use bottled)

1.5

tsp

Salt

1

tsp

Black Pepper

2

tsp

Oregano

3

tsp

Cumin
Instructions
Pre-heat oven to 300' (275' if using convection)

Mix the dry ingredients in a small bowl to make the rub

Coat the tenderloins in olive oil and place them in a braising pan

Cover the tenderloins in the rub

Sprinkle the onions and garlic all around the pan

Cover the braising pan and slow-roast for 3 hours, basting 3-4 times while cooking to moisten the meat