Buffalo Chicken Wings and Chili have become a staple on Sunday afternoons during Football season across America, so why not combine these two foods in Game Day Buffalo Chicken Chili!.  This is not my original creation although I did tweak it a little.  This recipe was entered in a Chili Cook-off at our church nearly 10 years ago, and it may even have been the winner. It's a vague recollection.
This dish combines ground turkey or chicken, with a rotisserie chicken from the grocery store.  Rotisserie chickens tend to fall off the bone, making them easy to shred.  It calls for a very small amount of cumin and chili powder as compared to traditional chili, and instead adds a good amount of Buffalo Wing Sauce.  Be careful!  A little bit goes a long way!   I have made the mistake of adding too much wing sauce because "everyone in my family likes the taste," only to have to backtrack finding ways to balance the taste.  The recipe does suggest adding brown sugar IF you made it too spicy, and you could also add a little bit of Chicken Broth to balance the flavors as well because the end outcome tends to be a very thick chili anyway.
I made only slight alterations.  Instead of 1 can of diced tomatoes, I opted for frozen diced tomatoes from my garden.  And I also added a Salsa Pepper from my garden, which is a medium spicey pepper which no doubt turned up the heat!
Instead of serving this chili with sour cream and cheddar cheese, you serve it with blue cheese dressing and crumbly blue on top.  Some in our family prefer the sour cream even with this chili (including myself) because it also acts to balance the strength of the wing sauce.
Buffalo Chicken Chili is thick enough to scoop up in a chip just as if it were a dip.  There you have it!  Go Bills!!!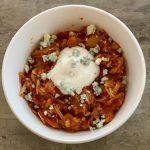 Print Recipe
Game Day Buffalo Chicken Chili
Spicey Combimation of Two Favorites, Buffalo Chicken Wings and Chili!
Ingredients
1

lb

Ground Turkey or Chicken

1

Rotisseri Chicken

1

Green Bell Pepper

I used Orange because I had it in the garden

1

Salsa Pepper

Medium Spice - optional

1

Jar

Sandwich Style Sweet Peppers

1

Med

Onion

Diced

2

Stalks

Celery

1

14 oz Can

Diced tomatoes

1

14 oz Can

Tomato Sauce

4

Slices

Bacon cut into bite-size pieces

2

tsp

Chili Powder

1

tsp

Cumin

1/3-1

Cup

Wing Sauce (or hot sauce)

I used Buffalo Wing Sauce

Crumbly Blue Cheese

Topping

Blue Cheese Dressing

Topping

Sour Cream

Topping

Browns sugar or chicken broth if you need to turn down the heat
Instructions
Saute the veggies in oil or even in the fat from the fried bacon. Set aside

In the same pan, brown the chicken or turkey

Debone the Rotisserie Chicken and cut or shred into bite-size pieces

In Crockpot combine all ingredients and slow cook on the 4 hour temperature setting or whichever setting works best for your timeframe.

Always taste a recipe like this and make adaptations to balance the flavors if necessary. To turn down the heat you can add brown sugar or chicken stock, or to turn it up simply add more wing or hot sauce.

Top with desired toppings: blue cheese dressing, crumbly blue, sour cream, or Ranch dressing.

Can be eaten with a spoon or with tortillia chips and celery!