As a Celiac, I spent many years missing a good crusty bread until Schaar came out with their amazing Baguette!  You have to bake it for a few minutes to get the crust crispy but it's worth the extra time. One of my goals is to create my own Gluten Free Baguette recipe, but Schaar has produced a great product and it's far easier than baking it!  You can use any type of crusty bread available to you in your local stores.
Gluten free bread can be a little tough to cut longer oblong slices because the bread can fall apart a bit, but I try anyway!  This is really such a simple recipe that you can either top with a variety of foods and serve at a party, or with a warm bowl of soup (See.  https://mysavorykitchen.com/potato-leek-soup-hold-the-heavy-cream/).  I remove the garlic after I infuse the oil, but if you prefer to keep the garlic on that is delicious as well!   Just brush your teeth a but longer :). Enjoy!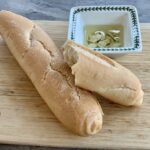 Print Recipe
Garlic Crostini
Baked Bread with Garlic-Infused Oil that Pairs Great with Soups, Stews, and Pasta! Can also be topped with Proschutto, Salami, Cheese, Pesto, Tomatoe, or your Favortie Party Appetizer!
Ingredients
1

Baguette

2

Cloves

Garlic

1/2

Cup

Olive Oil

Salt and Pepper to taste
Instructions
Slice Garlic into thin strips

Mix with olive oil, salt, and pepper with whisk

Using a muddler, muddle (break apart, mash) garlic in the olive oil

Let sit at least 30 minutes to blend so the garlic flavor infuses with the oil

Heat garlic-infused olive oil mixture over medium-low heat to intensify the garlic flavor

Remove the garlic from the olive oil with a sieve (Optional)

Brush the remaining olive-infused oil over each slice of bread

Arrange bread on cookie tray

Bake 15 minutes or until preferred browning