My Grandmother made one mean soup and the funny thing is she often used whatever random vegetables we happened to have in the fridge on a given day.   The result was always delicious!  (Check back for Grandma's After School Soup when school opens hopefully in the Fall of 2020).  Potato Leek Soup is one of the rare exceptions where she recreated this amazing soup time and time again using the same main ingredients.  You guessed it, Potatoes and Leeks!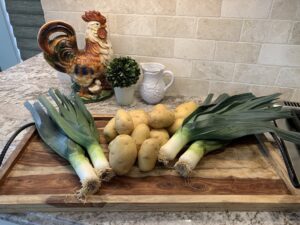 The origins of Potato Leek Soup, known in France as "Potage Parmentier" or "Vichyssoise", are debated among Culinary historians.  Some say it originated in Whales, others say France, while Julia Child said it originated in the States. Wherever lies the truth, in my heart it is a French creation!
A true Vichyssoise has heavy cream or at least milk in it, but my Grandmother used neither which works well in my household with a few family members having allergies to dairy.   I've tried Potato Leek soup made with heavy cream in restaurants, and I honestly prefer my Grandmother's twist which highlights the main ingredients.  I find the cream can take center stage and you loose the robust blend of the potatoes and leeks. Be sure to smell the leeks before buying making sure they offer a good oniony aroma.
Vichyssoise is served cold dating back to Louis XV of France who had his servants try it first to be sure it was not poisonous. By the time he felt assured he wasn't going to die the soup was cold and has been served that way ever since.  This is another "rule" my Grandmother broke, resulting in a hot comforting bowl of soup to warm your soul on a cold winters day!   Often I would return home from school as a child to this delicious bowl of soup and my adorable Grandmother waiting for me.   Ah, true comfort!
Although this soup can be cooked for just one hour, I typically prepare it early in the afternoon, and let it simmer on the stove so everyone can walk in from a long day and smell the comfort in a warm bowl of soup!  Pair it with some Garlic Crostini (https://mysavorykitchen.com/garlic-crostini/) and enjoy this old world French classic!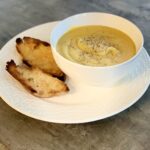 Print Recipe
Potato Leek Soup, Hold The Heavy Cream
Comfort in a Bowl! Homemade Soup Made From Fresh Potatoes and Leaks that is Sure to Warm Your Soul on a Cold Day!
Ingredients
4

Lrg

Leeks

5

lbs

Yukon/butter potatoes

2

tbs

Olive oil

1/3-1/2

Cup

Butter or plant-based butter if avoiding dairy

32

oz

Chicken broth or vegetable (if plant-based)

1/2

tsp

Garlic powder

Salt and pepper to taste
Instructions
Remove the outer leaves of the leeks.

As a root vegetable Leeks get very dirty so cleaning them is important. Gently separate the leaves and rung the water through them checking through the various layers for more dirt.

Slice leeks about 1 inch in diameter

Peel and cut potatoes into 2 inch cubes

Heat an 8 quart stockpot on medium heat, add oil and butter

Sautee Leaks 5-7 minutes until they tenderize, add salt and pepper a little bit at a time during each step. Add the Potatoes. Sautee together until well seasoned

Add Chicken or vegetable Broth. Cook on medium low heat until potatoes are soft enough to puree

Puree the mixture until smooth with an immersion blender (or transfer to blender or food processor, but this is more labor intensive and messier)

Serve with Garlic Crostini