When it comes to Meatloaf, I have always just "winged it," throwing in whatever I had handy in the house that sounded good.  Of course, I never measured anything either, so it always came out differently.  Last week, when I had a hankering for Meatloaf, I figured I better create a recipe I could share on the blog.  This recipe is the result of that effort.
I really don't have much to say about making meatloaf, but I do have a couple of very short stories about it!  Let's start with my mom!  Meatloaf was the very first thing she cooked after she and my father got married.  She burnt it really bad!  It must have been a bit traumatizing because every time we eat meatloaf even to this day, she retells that story!  I hope my dad followed Shania Twain's advice to men and said "hmmmmm I like it like that!" 😊.
Then there was the cat named Meatball!  Meatball was my sister's cat, and my little French Grandmother used to crack us up when she called for him.  In her cute little French accent, she would stand at the door and call "Meatloaf!" "Meatloaf!"  When we would remind her that his name is Meatball, she would throw her hands up and say, "eh Meatball, Meatloaf, what does it matter?"  Fond memories for me!
I hope you enjoy this Meatloaf recipe, or "loaf of Meat," as my daughters call it!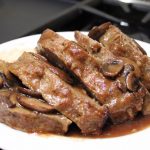 Print Recipe
Meatloaf with Mushroom Gravy
Delicious Meatloaf in a Mushroom Gravy with sauteed onions and garlic, and a splash of Red Wine!
Ingredients
2

Lbs

Ground Beef, Veal, and Pork

2

Eggs

1/2

Cup

Italian Seasoned Breadcrumbs

1/2

Cup

Grated Parmigiano Cheese

1/3

Cup

Onions, Diced.

3-4

Cloves

Garlic, depending on size

2

Tbs

Olive Oil or butter

Splash

Dry Red Wine

3

Tbs

Beef Broth (I use the concentrate mixed with water, but any beef broth will do)

1

tsp

Oregano

1

tsp

Salt

1

tsp

Black Pepper

MUSHROOM GRAVY

16

oz

Sliced Mushrooms

2

Tbs

Oil or butter to saute the mushrooms

2

Tbs

Butter for the Roux

2-3

Tbs

Flour for the Roux

1/4

Cup

Dry Red Wine

3

Cups

Beef Broth (I saved some au jus from a chuck roast I had slow cooked. It yielded about 1 cup of broth, and I added an additional 2 cups from the concentrated beef broth mixed with water. The homemade au jus adds great flavor to the standard store-bought broth.)

Salt and pepper to taste. Rosemary and thyme are good additions as well, although I did not add them to this gravy.
Instructions
Heat Olive oil or butter in a skillet on medium heat, add the onions

As the onions soften, add the garlic. I always add the garlic second because it can burn so quickly.

Sprinkle salt and pepper on the onions and garlic as they soften and continue to saute until onions and garlic turn a nice golden color.

In a large mixing bowl combine all of the ingredients. I like to add the salt, pepper, and oregano to the eggs then beat well so the seasonings get spread evenly throughout the meat mixture. Mix by hand or with heavy duty mixer.

Form the meat mixture into a loaf in a baking dish.

Bake on 350' for at least 1 hour or until the internal temperature in the middle of the meatloaf reaches 165'. Cooking times will vary from oven to oven, and also based on the size of the meatloaf.

For the mushroom gravy: Heat olive oil or butter in a medium skillet, then add mushrooms.

Saute the mushrooms until tender, about 8-10 minutes, seasoning with salt and pepper as they soften.

Toward the end of cooking deglaze the pan with a splash or two of red wine. Continue to simmer for 2 minutes

Prepare the roux. In a medium saucepan, melt the butter on medium-low heat. Be careful not to burn the butter.

Slowly whisk in the flour 1 tablespoon at a time. The butter and flour will quickly thicken into your roux

Slowly add warm beef broth to the roux, continuing to whisk to avoid clumping.

Bring the gravy to a boil until it thickens.

Reduce to a simmer and combine the thickened broth with the mushrooms and simmer on very low heat.

Baste the meatloaf about 3 times while it is cooking.