Sweet bell peppers create such a bright and beautiful rainbow of colors!  I had so much fun just taking pictures of them for this recipe!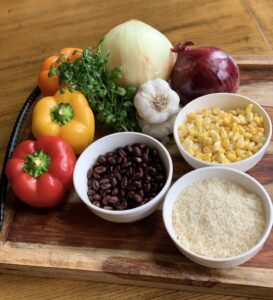 Stuffed peppers are a long-time classic meal, but I wanted to mix things up from my original recipe and give them a Mexican flare.  One of my daughters follows a plant-based diet,  so I made one version with meat and cheese and another without meat and dairy.   Years ago I would cut off the tops of the peppers, remove the seeds, then stuff them from the top.  Inevitably they would fall over because they were quite tall, so now I slice them in half, stuffing both halves individually.  This works much better for me.
These stuffed peppers are easy, delicious, and Gluten-Free!  I like to prepare them in a cast-Iron Skillet because Cast Iron can move from stove-top to oven with ease.   In general, cast iron skillets are a favorite among many cooks because they provide sustained heat, they can keep food warm for quite some time after cooking because they hold-on to heat, and a small amount of iron is absorbed into the food during cooking.  In particular, I like to sear Steak in cast-iron for that nicely chard exterior, then finish the steak in the oven.  It's easy for me to go on and on about cooking with cast-iron, but in this recipe for Stuffed Peppers, I cooked in cast-iron simply because I thought it would look pretty!
Hope you enjoy them!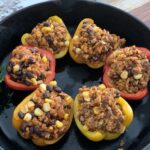 Print Recipe
Mexican Stuffed Peppers
Easy Cheesy Stuffed Peppers with Mexican Spice
Ingredients
3

Bell peppers

1

lb

Ground beef or pork

1

Cup

Black canned Beans

1

Cup

Uncooked Rice of Choice

I use Jasmin

2

Cups

Corn

1/2

Large Red or Vidalia onion

Diced

2

tsp

Cumin

1

tsp

Smoked paprika

1/2

tsp

Ground black pepper

Salt and cayene pepper to taste

1

Cup

Shredded cheddar cheese (non dairy cheese if plant-based

2

Tbs

Olive oil
Instructions
Prepare rice according to package directions. Set aside

Heat Skillet on medium heat, add olive oil

Saute onion in 2 tbs olive oil on medium until the edges are golden brown

Brown ground beef or pork either in a separate pan or right in with the onions

Add black beans and corn, mix thoroughly.

Blend in the cumin, smoked paprika, black pepper, salt, and cayenne pepper. Simmer for 10 minutes to bring out the flavor of the spices.

Combine the rice with the ground beef or pork mixture. Blend in the shredded cheddar.

Slice each bell pepper in half, remove seeds and stem, then fill each one with all of the ingredients.

Bake on 350' for 20 minutes