If you're looking for a tender cut of meat that doesn't empty your pockets try a Pork tenderloin!  It's an inexpensive yet elegant option for entertaining, as well as an easy family meal.  1 tenderloin will typically feed 3-4 people , but if you have big appetites in your house then I suggest making 2.  I usually make 2 for a family of 4 just so we can enjoy the left overs!  I throw marinated tenderloins on the grill in the summer, or roast them in the winter for a great comfort meal! Adding a tasty stuffing to the meat introduces additional flavors plus different textures.  You can put just about anything in a stuffing if paired well, and I've tried to create a few different kinds.  I particularly like this Pancetta stuffing with pork.  It blends the slight sweetness of the pork with the salty qualities of the pancetta and parmigiano cheese.  I also add finely diced sautéed onions and mushrooms for great flavor and moisture plus Italian seasoned breadcrumbs and flat leaf parsely. Parsley adds so much life to a variety of dishes!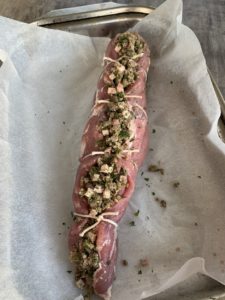 This Pancetta Stuffed pork pairs nicely with our family Fried Apples! Good veggie selections include steamed or roasted carrots, butternut or acorn squash, or green beans to name a few.  So let's get tp the recipe!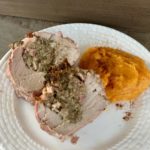 Print Recipe
Panetta Stuffed Pork Tenderloin
Homemade Stuffed Pork Tenderloin! So Tender and tasty for a cool Fall or Winter Night!
Ingredients
2

Pork Tenderloins

16

Oz

Diced Mushrooms

1

Large

Vidalia Onion

12

Oz

Diced Pancetta

Breadcrumbs

Parmagiano Cheese

Flat leaf (Italian) Parsley

2

tbs

Olive Oil

Salt and pepper to taste
Instructions
Heat sautee pan over medium heat and add 2 tbs Olive oil

Add mushrooms and onions. Sautee on medium heat until soft and tender. I like to get them very soft and see the onions brown a little. Add a pinch of Kosher Salt and Fresh Cracked Black pepper while cooking.

Turn off the heat and stir in the reamining ingredients. Let Cool.

Slice the tenderloins length wise from end to end to create a pocket (butterfly) for the stuffing leaving about 1/2 inch uncut on each end.

In a roasting pan fill the pockets with the stuffing and tie the tenderloins in three places to help hold the stuffing in place.

Roast at 400° for 35 minutes or until the internal temperature is 145°. Try not to overcook your pork because such a lean meat can become dry if overdone.

Let rest 5 minutes before serving
Notes