This saute' offers a flavorful combination of ingredients.  Tomatoes, Bacon, and feta are all packed with intense and distinct flavor, yet come together so beautifully in this meal!  Shrimp is such a versatile food as it can be sauteed, grilled, steamed, boiled, roasted, broiled, pan-seared, or fried.   It's really low in calories (only 84 calories in a 3oz serving), high in protein (18 grams), and is a good source of Omega 6 and 3 fatty acids.    I recommend making sure all the shrimp smell fresh before cooking.
I start by cooking the cut-up bacon, then once the bacon releases some fat, I add the shallots and garlic.  I bet you can imagine how good this combination smells as it's cooking!  Right before the bacon is fully cooked, the shrimp get added.  The bacon will continue to crisp up as the shrimp cooks.  As the shrimp turns pink, add the tomatoes and simmer until completely warm.  Right before serving add the spinach and feta, then serve over rice, pasta, or cauliflower rice.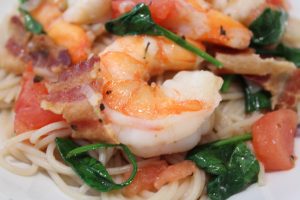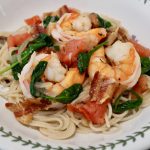 Print Recipe
Shrimp Saute with Bacon
Flavorful Shrimp dish made with shallots, garlic, tomatoes, bacon, spinach, and feta cheese!
Ingredients
1

lb

Shrimp, Peeled and deveined

1/4

Cup

Shallots rough Chopped

2

Cloves

Garlic, diced

6

Strips

Bacon, cut into 1 inch peices

2

Cups

Fresh diced tomatoes (use canned if you don't have fresh)

3/4

Cup

Chicken Broth

1-2

Cups

Baby spinach (I just grab a handful or two so guessing that's about 1-2 cups)

1/2

Cup

Crumbled Feta Cheese

Salt and pepper to taste
Instructions
Heat a medium-sized skillet on medium heat, then add the bacon

Once the bacon releases some fat, add the shallots. Cook 1-2 minutes, then add the garlic

Right before the bacon is fully cooked, add the shrimp cooking until the shrimp turns completely pink

Add the tomatoes and stir, then pour the chicken broth over the top. Simmer 3-5 minutes.

Finish this dish off with a handful or two of the baby spinach and feta cheese.

Serve over rice, pasta, or cauliflower rice