The Finger Lakes Region of New York State boasts some of the most beautiful scenery in the country, and some truly outstanding and award-winning wines!  In fact, the Finger Lakes was named America's Best Wine Region in the Readers Choice Awards in 2019 (see https://www.10best.com/awards/travel/best-wine-region-2019/).   For both these reasons, the Finger Lakes Region has become a popular vacation destination.  I am blessed to live less than one hour from this breathtaking area, allowing for frequent visits to the many great wineries and small towns.
Years ago, the Finger Lakes region had the reputation of producing inexpensive sweet white wines, but generations of farmers have worked tirelessly and creatively to grow the European Vitis Vinifera grapes despite the region's colder climate.   As a result, many wineries have successfully produced some lovely dry wines, both white and red.   Known for their Rieslings, the Finger Lakes truly produces some of the best dry and semi-dry Rieslings in the country, and have also made a name for themselves worldwide as noted at Foodandwine.com (https://www.foodandwine.com/wine/white-wine/reisling/worlds-best-riesling-wine-regions#finger-lakes).  When I was first introduced to Finger Lakes wines nearly 20 years ago, I was not impressed with many of the red wines I tried, but knowledge, experience, and innovative processes have lead to a dramatic improvement in their red wines! Cabernet Franc is a grape that is well-suited for the Finger Lakes climate and creates a delicious red wine. I have tasted several wonderful red wines that are distinctly "Finger Lakes!"
Touring the Finger Lakes offers the beautiful backdrop of rolling hills, lake sunsets, vineyards, small quaint towns, and of course wine!  I recently visited several wineries on Seneca Lake that I'd like to highlight.  Seneca Lake is the largest and deepest of the Finger Lakes, and it is also home to the majority of wineries in the region. At the northern end of the lake you will find the historic city of Geneva, Home to Hobart and William Smith Colleges.  Watkins Glen sits at the south end where you can walk the incredible Gorge at Watkins Glen Park, or catch a NASCAR race at Watkins Glen International.    More information can be found about this magnificent lake at https://senecalakewine.com/
Let's take a look at a few of the many great wineries on Seneca Lake!
Ravines Wine Cellars.    
Rated one of the Top 100 Wineries in the World by Wine & Spirits,(https://www.wineandspiritsmagazine.com/top100tasting/wineries/p2) Ravines is a family-run winery whose roots and wine-making experience originated in Europe.  Set in a very large rustic yet sophisticated barn nestled in the beautiful rolling hills of the vineyard, Ravines always delivers a great experience and produces several award-winning wines! They offer a variety of dining and pairing options as well.
A few years ago I attended a Pairing Dinner and Wine Tour at Ravines.  This was a delicious, educational, and enjoyable experience!  The food was excellent, and it is always intriguing to learn how and why they make their pairing selections.  I always find it so interesting how a wine can taste different based on what food you're eating. The owners of this fine winery, Morten and Lisa Hallgren,  provided a lovely and memorable evening for us!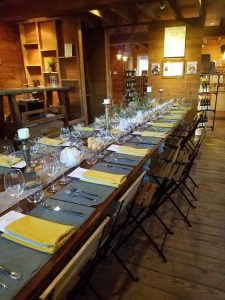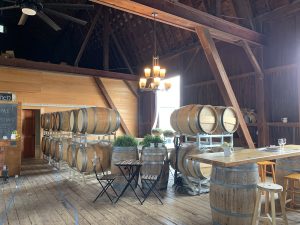 My latest experience at Ravines was during Covid so indoor and outdoor seating was limited and spread-out in compliance with New York State mandates for the pandemic. The staff did an excellent job to make our experience enjoyable!  We had a lovely Charcuterie board, and they were great in accommodating my Gluten-Free dietary restrictions.
Ravines wines are lovely!   I  enjoy all of their wine, but my favorite wines from this tasting were the Dry Riesling, Maximilien, and the Cabernet Franc!  Their Dry Reisling 2017 is one of the smoothest, easy-drinking Dry Rieslings I have ever tried!  I am not generally a fan of Dry Riesling, but I found this one to be smooth and delicate with a nice balance of minerality and acidity, with a pleasing blend of light citrus and subtle pear aroma.
The Maximilien 2017 is a deep Burgundy to plum color with a pronounced balance of minerality and fruit.  Aromas of cherry, plum, and berries were evident, and I noticed a hint of tobacco with a slightly peppery finish as well.   I found this wine to be quite smooth after it breathed for about ten minutes.
Ravines Cabernet Franc 2018 is one of my favorites from the Finger Lakes Region! Cabernet Franc grows quite well in this region with a cooler climate and shorter growing season. This wine is light and smooth with balanced acidity, deep cranberry and plum notes, and soft tannins with a slightly herbal finish.
Ravines Red wines are a deeper color and more full-bodied then is typical in the Finger Lakes Region.   For more information about their red wines look for my upcoming blog article about red wines in the Finger Lakes at Mysavorykitchen.com.
For more information about this great winery visit:  https://ravineswine.com/
Billsboro Winery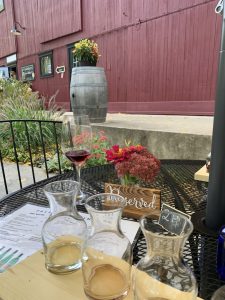 Billsboro is another great destination on Seneca lake to enjoy some great wines! The tasting room is housed in a beautiful red barn perched on the rolling hills overlooking the lake.   I love old barns with original cobblestone and massive wood beams, especially when so beautifully maintained!    Billsboro also offers a quaint patio for tastings on warmer days, and their knowledgeable and pleasant staff help create an enjoyable wine tasting experience.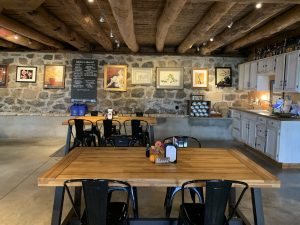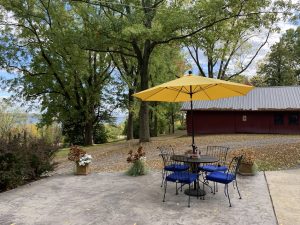 My favorite white wine at Billsboro Winery is their Pinot Gris 2018!  This is a great summer wine with it's light and crisp citrus notes. Billsboro also has a lovely Dry Reisling that is fragrant, offering peach and a touch of citrus on the palate.
For reds, their Cabernet Franc Sans Oak is excellent!  It is fairly light in color which is not uncommon for the region.  This red wine is earthy, light, and smooth.  I found the Cabernet Franc more fruit-forward and tannic than the Cabernet Franc Sans Oak, and delicious as well!
For more information about this great winery visit: https://www.billsborowinery.com/
Fox Run Vineyards
Fox Run's tasting room is housed in a lovely building loaded with windows, offering great views of the lake!  The artful masterpiece of a gate at the entrance embraces the essence of the natural surroundings of the Finger Lakes Region. It is worth seeing!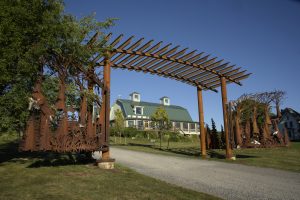 . ©˙Fingerlakes.org
In the tasting room, my favorite Fox Run red wine was their Cabernet Franc 2018. This is a very good medium-bodied Cab Franc that is quite smooth!  I bought their 2017 Cab Franc at a local liquor store, and I like it even better than the 2018.  The 2017 Cab Franc was more full-bodied, velvety smooth with deep notes of dark fruits!
I typically avoid dessert wines, but every now and then my sweet tooth shows up!   I tried their delicious Hedonia, a white Port wine.  It had a pronounced floral aroma, a lovely sweet and fruity taste, and was silky smooth! Hedonia would be great served with a decadent dessert such as Creme Brulee or a dark chocolate torte, and according to our wine expert at Fox Run, an orange peel adds an excellent contrasting edge to this sweet wine!
Fox Run offers a great wine tasting experience!  You can also grab a nice lunch on their deck overlooking the lake!
For more information about this great winery visit: https://foxrunvineyards.com/
Atwater Estate Vineyards.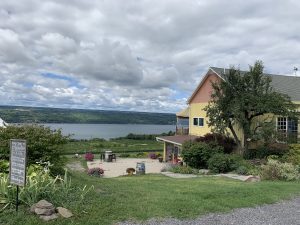 Located on the southeastern side of Seneca Lake, Atwater Estate Vineyards has a most breathtaking view of the Lake!  The Chateau style tasting room and store overlooks a large vineyard with several picnic tables and Adirondack chairs for you to relax, sip your wine, and take in the beautiful view!  You can bring your own lunch and purchase a glass, flight, or bottle to enjoy on the lawn.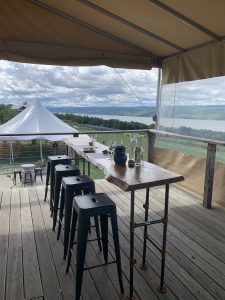 I started this tasting with an incredible sparkling Riesling!  This light and dry sparkling wine had the most subtle and soft bubbles.  I absolutely loved how it felt and I picked-up pear and citrus on the palate and nose.
The Skin Fermented Gewurztraminer/Chardonnay 2016 is a soft and mellow white wine stored in a red wine cooler, and therefore, served at a warmer temperature than most whites. I enjoyed this wine very much!
On to Big Blend 2016!  This is an earthy tannic red wine with rich berry flavors making their place known. I have one on my wine rack waiting to be opened!
I had to complete my tasting with Fahrenheit 2016!  Ice wines are abundant in northern Europe and North America.  Niagara on the Lake is known for its Ice Wines and the Finger Lakes offer a variety of these wines as well.  Hence the name, Ice wines grow best in cold climates.  Ice wines are made from a number of grape varietals that are left on the vine until frozen and then harvested and pressed.  Frozen grapes yield an intense sweetness and concentrated grape taste found in ice wine.  Fahrenheit 2016 is a red blend of Cabernet Sauvignon and Cabernet Franc.  It is intense with flavor yet light at the same time.  It is a delicious dessert wine!
For more information about this great winery visit: https://www.atwatervineyards.com/
The best part of wine tasting in the Finger Lakes for me is the beautiful scenery and the people!  You are surrounded by beautiful views and beautiful hearts who bring a love and enthusiasm for the wines of the Region!  It's easy for people in upstate New York to take a day trip, but the Finger Lakes has become a vacation destination for people from all over the world.  Wherever you may live, I hope you find yourself roaming the rolling hills surrounding the lakes, and tasting some very good wine real soon!   Please feel free to leave a comment or message me at info@mysavorykitchen.com if you have questions.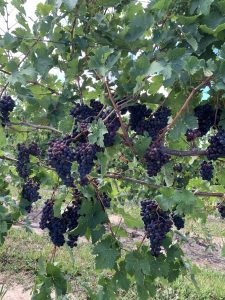 Cheers!