A good hearty Bolognese Sauce is my Husband's favorite thing to eat!  He loves it so much that there is always more sauce in his bowl than pasta!   And who can blame him?
I've been making Bolognese Sauce for decades so it really is a staple in our home.  I do prefer it to a Marinara Sauce.  Not only does it provide added protein to your meal, but the punch of flavor from the meat is just so good!  This recipe includes sweet Italian sausage, although I don't always use sausage.  The sausage definitely ramps of the flavor of the sauce, and if you like a spicy sauce, you could always add Hot Italian Sausage instead.
I used a combination of crushed tomatoes and tomato sauce because I find the sauce gives the final product a smooth and soft finish.  Years ago when my girls were little, they did not like seeing anything in their tomato sauce.  I could not add onion or garlic, and certainly not mirepoix, crushed tomatoes, or meat.  It had to be smoother than smooth, so I flavored the sauce with onion and garlic powder instead of the real deal.  The texture of the sauce was delicate and soft (although a tad boring), and so I began adding it to my bolognese.  Fortunately,  their palates have matured!
Enjoy the Bolognese on any type of pasta or gnocchi!  See my Arancini recipe https://mysavorykitchen.com/arancini-italian-fried-rice-balls/ for another great use of the hearty sauce.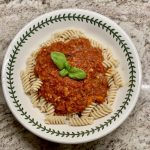 Print Recipe
Bolognese Sauce!
Hearty Tomato Sauce with Ground Beef, Veal, Pork, and Italian Sausage
Ingredients
1

lb

Ground Beef, Pork, and Veal

1

ib

Ground/Bulk Sweet Italian Sausage

Use Hot if you want to give it a kick

7

Oz

Mirepoix (Diced onion, celery and carrots)

4

Cloves

Garlic Diced

4

48 oz

Cans of Crushed Tomatoes

I use Tuttorosso

2

48 oz

Cans Tomato Sauce for a softer finish

I use Tuttorosso

2

Tbs

Chopped Basil

Salt and Pepper to taste

2

Tbs

Olive Oil
Instructions
Heat a large stockpot on medium and add olive oil

Saute Mirepoix 3-5 minutes until tender

Add diced Garlic and saute another 1-2 minutes, adding salt and pepper as you go

At this point, you can either add the meat with the veggies, or remove the veggies, brown the meat then add the veggies back

Once the meat is browned and combined with the veggies, add the cans of crushed tomatoes and tomato sauce.

Reduce the heat to a low simmer for several hours to cook down the acid in the crushed tomatoes.

Taste your sauce to see if it needs more salt and pepper. About 15 minutes before serving add the chopped basil.