I finally bought a wok!  I've wanted one for years, but for some reason I never went out to purchase one.  One night of cooking with my new wok and WOW am I sold!  Gone are the days of trying to quickly stir fry meats in a saute pan. It just doesn't cut it! The wok provides the perfect tool to quickly cook the meat on high heat without drying it out.  It's not that I didn't know this about woks, I just didn't act on it until recently.
I don't cook Asian cuisine often, but my family really does love the flavors commonly used in Asian Cooking.  When I do cook this type of cuisine, I tend to lean toward sweet and slightly spicy sauces that are light, and I do not batter or flower the meat, keeping the dish lower in calories and easier on the gut.
Finding the right balance in timing is essential when stir frying.  Some vegetables take longer to cook than others, and if you add raw veggies to the wok once the chicken is nearly done, you risk drying out the chicken waiting for the vegetables to cook.  What's the solution then?  Blanching!  I absolutely love blanching vegetables for a variety of reasons, not just for stir-frying.  First and foremost, the explosion of vivid colors in blanched veggies just makes me smile!  Not only are they vibrantly colorful, but blanched veggies stay crisp without being undercooked if timed correctly.  Second, blanching vegetables ahead of time can save you prep time throughout the week if you blanch an assortment of veggies on a Sunday and reheat as needed on weeknights.  Also, I always blanch vegetables the day before entertaining guests to lighten up my cooking load on the day of the dinner.  Then I simply season and reheat in the microwave.  Blanching can be done prior to preparing a stir fry or even a stew.  I add the blanched veggies right before the chicken is fully cooked, then stir fry all ingredients for just 1-2 minutes and then dinner is served!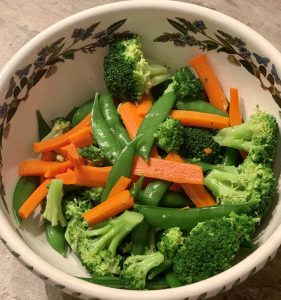 Look how gorgeous these blanched Vegetables are!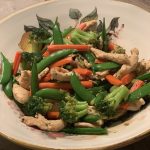 Print Recipe
Chicken Stir Fry
Chicken Stir Fry in a Light and Sweet Sauce!
Ingredients
1

lb

Chicken Strips thinly sliced

Wegmans sells these pre-cut and organic!

2

Tbs

Canola Oil

1/4

C

Soy Sauce

I Use Gluten Free

1

Tbs

Rice Vinegar

2

tsp

Chili Garlic Sauce

Add more if you want to spice it up!

3

Tbs

Brown Sugar packed

1

Tbs

Water

1

Tbs

Corn Starch
Instructions
Cut-up desired Vegetables. I used Sugar Snap Peas, Broccoli, And Carrots. If pressed for time purchase pre-cut veggies. Blanching can even be done the morning of or the day before.

Blanch Vegetables 2-4 minutes depending on how thick they are cut.

While Vegetables are boiling, prepare the sauce by thoroughly mixing the soy sauce, rice vinegar, chili garlic sauce, brown sugar, and water

Heat a wok or saute pan on medium-high heat. Add oil

Add chicken and stir fry until cooked

Blend in the blanched vegetables and the sauce

Serve this delicious Chicken Stir Fry over Rice