I struggle with Salmon!  I want to eat it because of the healthy punch of Omega 3 it delivers, but I have to camouflage it due to the strong flavor compared to many other fish varieties.  Many years ago I spotted this apricot-glazed salmon in the prepared food section of Wegmans Grocery Store, but I had to pass because it wasn't Gluten-Free.  This happens to me often whether at a store or out to dinner in a restaurant.  As a result, I think about the name and description, then I begin to imagine how I might prepare a similar dish.
That day I picked up some salmon, of course, Apricot Marmalade or preserves, and shallots.  I didn't notice shallots or onion in the  Wegmans version, but I thought it would be nice to contrast the sweetness of the marmalade with an oniony flavor.  Fast forward to yesterday when I last made this Salmon, I deviated from the usual brand of apricot marmalade that I purchase, and I went for the Wegmans Orange Marmalade.  I am so glad that I did!!!   Wegmans added lemon, orange zest, and orange peel to their recipe, which just enhanced the aroma and flavor of the orange plus it added a nice texture to the glaze.  I have used preserves in the past as well, but now I am hooked on this Wegman's orange marmalade!  If you can't find a marmalade with lemon, orange zest, or orange peel, you can simply add those ingredients yourself.
If you've ever had marmalade then you know how thick and sticky it is!  I thinned-out the marmalade with olive oil, but I wanted another contrast to the sweetness so I added balsamic vinegar.  Even though Balsamic is one of the sweeter kinds of vinegar, let's face it, it's still vinegar!
The directions in this recipe call for a grilled salmon, but I make this year-round either roasted in the oven or seared in a cast-iron skillet. Keep in mind the clean-up of the blackened, stuck-on glaze is a bit of a chore, especially on cast-iron.  With that said, cast-iron is one of my favorite ways to prepare this dish.  When grilling, I often use a soaked cedar plank, but my husband prefers to slap it on the grill directly in spite of the mess!  The glaze does caramelize better this way, but it's rather messy.  So I would say, the cast-iron skillet or placing it directly on the grill produces the best caramelization.   I wish you well with the clean-up! 😊
I usually serve with Grandma's Balsamic Vinaigrette with added Madorin Oranges.  https://mysavorykitchen.com/balsamic-vinaigrette/
Hope you enjoy!  🥂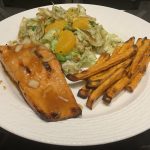 Print Recipe
Orange-Glazed Salmon!
Delicious Grilled Salmon with Carmalized Orange Marmalade Glaze! Prepare with Grandma's Balsamic Vinaigrette and add mandarin oranges!
Ingredients
4

6 oz

Salmon Fillets

1/2

Cup

Olive Oil

3

TBS

Balsamic Vinegar

2

Shallots Chopped

1/8

tsp

Garlic Powder

1/4

tsp

Salt

1/8

tsp

Ground Black Pepper
Instructions
In a tall liquid measuring cup, add one cup of orange marmalade

Add olive oil and blend to thin-out the marmalade

Add the remaining ingredients and stir until well-blended. I typically make this hours earlier and let it rest on the counter.

Place Salmon on a plate or baking dish and spoon the orange glaze on top.

Heat the grill to 450-500

Grill Salmon skin side down for 6-8 or longer if you like it well done. Baste with basting brush as needed. No need to flip Salmon

Serve with a fresh salad with mandarin oranges